Dear Reader,
Welcome to a special, two-part edition of Coaching for Growth, dedicated to one of the most important organisational challenges at present: achieving highly effective teams. We've been busily coaching teams around Australia and hence, decided to skip the February edition to produce more in-depth material every two months. We hope it's useful!

One of the most significant changes and key disruptors to the 21st Century workplace is the re-design of organisations into networks of teams to achieve organisational goals.
According to the Deloitte Global Human Capital Trends 2016 Report (refer to infographic), a network of teams builds and empowers teams to work in a more interconnected and flexible manner to achieve organisational goals.
Our clients at ProVeritas Group are embracing the shift from top-down hierarchy to a network of teams to deliver results much faster. In true coaching style, we ask the question: how do we achieve highly effective, high performing teams?
Quite often, it helps to consider the opposite – what constitutes a dysfunctional team? This was extensively discussed by Patrick Lencioni in his 2005 book: The Five Dysfunctions of a Team (refer to diagram).

He posited that lack of trust, fear of conflict, lack of commitment, avoidance of accountability and inattention to results were the fundamental characteristics behind ineffective teams.
He posited that lack of trust, fear of conflict, lack of commitment, avoidance of accountability and inattention to results were the fundamental characteristics behind ineffective teams.
Lencioni's model gave leaders in the early 2000's a clearer understanding of what may be hindering their team's effectiveness, and many organisational development consultants were then able to develop specific interventions to address these dysfunctions.
Fast forward to 2018, and the workplace of the 21st Century has become more volatile, uncertain, complex and ambiguous (VUCA) than ever. Organisations grapple with rapid technological changes, increased social complexity and interconnectedness, conflicting philosophies, perspectives and opinions and many more.
Organisations are becoming more aware of the distinctions between a working group versus a high performing team (along a continuum). To help leaders develop a preliminary understanding of where their teams are, we ask all team members to complete a Questionnaire. The results provide a good indication whether they are operating as a real team or as a group, thereby motivating team leaders and members alike to ask the following questions:
| | | |
| --- | --- | --- |
| • | | How do we create a team that functions as more than the sum of their parts? |
| • | | How can we develop team meetings that we all look forward to, and make us feel more energised, connected and focused than before? |
| • | | How can each team member be enabled by the team to achieve much more than they could by just working in parallel with others? |
Our clients at ProVeritas Group have benefited from our evidence-based team coaching programs, resulting in dynamic, adaptive, cohesive, solutions-oriented and results-driven teams. Equally important, by following our programs, they can achieve levels of high team performance sustainably i.e., without burning out and high attrition rates.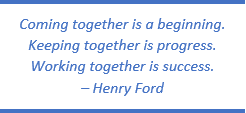 The new science of highly effective teams goes beyond team-building exercises and having a mission statement. It is based on team coaching programs, or learning interventions, designed to increase the collective capability and performance of a group/team through application of coaching principles such as assisted reflection, analysis and motivation for change.
Organisations need a different, scientifically based approach to team interventions to succeed in the 21st Century. You can learn more about the characteristics, skills and behaviours of high performing teams here. And if you are ready to become a more effective team leader, and wish to transform your group into a highly effective team, please contact us to book a ProVeritas team coaching program.
Until the next newsletter edition...
Wishing you continued growth,