Dear Reader,
It's been a very busy few months here at ProVeritas Group working on several introspective activities. Hence, our "digital silence" of late.
During this introspective time, we engaged new commercial partners to assist with our growth trajectory and had numerous discussions with coaching psychology and organisational development colleagues in the UK, US and here in Australia.
We wanted to ensure that, as a learning & development (L&D) organisation, our delivery was completely aligned with the purpose and values of the business. We believe this is the most effective way to deliver value to our clients and to help them grow and flourish. We're therefore delighted to share this summary with our readers.
The STEM Leader: CEOs from Science, Technology, Engineering & Maths backgrounds
Our work will now focus on advancing leaders from Science, Technology, Engineering & Maths (STEM) backgrounds. More specifically, we'll be working with STEM leaders to reach their full potential and help them advance to C-level roles. We need STEM leaders at the top!
The "STEM" acronym is associated with the global educational movement to increase the number of students studying STEM-related subjects at school and pursue STEM careers. However, we need to go a step further once those STEM professionals enter the workforce.
We live in a world of increasing complexity largely driven by advances in STEM. These advances are potentially the key to unlocking the solutions to our biggest challenges, summarised by the 17 UN Sustainable Development Goals (or Global Goals) to transform the world.
Unfortunately, many business and political leaders lack essential leadership capabilities required to deal with 21st Century problems. Decisions need to be innovative, evidence-based, responsible and must lead to sustainable growth.
Organisations all over the world are looking for leaders to inspire others to follow. Leaders must also have character, as discussed in our last article: 6 Key Learnings About Character.
To bridge the existing leadership gap, ProVeritas Group is focusing on coaching STEM leaders by leveraging the problem-solving capabilities inherently present in STEM professionals. We develop emotionally intelligent (EQ) and agile leaders using evidence-based, coaching psychology methodology stemming (pardon the pun) from years of research and practice around the world.
What about STEAM?
The nexus of STEM and Art, known as STEAM, is considered one of the keys to successfully transforming the world. Architects and designers introduce the multisensory and emotional contexts, thereby bringing to life new technological discoveries.
A great way to visualise the convergence of STEM + Art = STEAM is by attending a TED or TEDx event. This is "where technology, entertainment and design converge", according to their tagline, with the purpose of sparking conversation, connection and community. This was indeed the case for me after attending TEDxSydney 2018 on the 15th June at the International Convention Centre - my second time in a row.
All talks and performances were excellent however, Dr Thomas Oxley, an endovascular neurologist, was a favourite. His talk was remarkable, not just because the science behind his research was novel, but also because he used storytelling skills (sophisticated communication skills usually associated with the humanities discipline) to convey his message to the audience.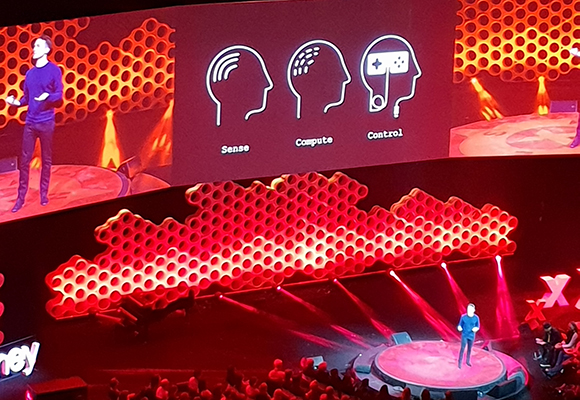 Photo of endovascular neurologist Thomas Oxley at TEDxSydney 2018
Dr Oxley concluded his talk with pictures of Stephen Hawking and Christopher Reeve, pondering out loud whether one day his invention would help patients with tetraplegia (due to spinal cord injury, stroke and ALS) walk again. The audience – over 5000 people from different walks of life - gave a long and vigorous ovation.
As such, we posit that the nexus of STEM and Art, or STEAM, can provide the ideal conduit to developing the leadership capabilities needed in the 21st Century's volatile, uncertain, complex and ambiguous (VUCA) environment.
We need evidence-based and responsible decision makers with the right levels of emotional intelligence to communicate and help others make sense of the chaos, provide a vision and create innovative pathways and solutions for a sustainable future.
What's Next for ProVeritas Group?
We'll continue to coach our existing clients with the same level of excellence, professionalism and dedication we've become known for. Concurrently, we'll be developing new content and resources to reflect our realignment to working with STEM (and STEAM!) leaders to accelerate their progression to vital decision-making roles in organisations i.e. C-level roles.
The newsletter will now be published every 2-3 months, depending on internal activities as I work towards the publication of my first book – a leadership coaching book for anyone from a STEM/STEAM industry seeking to transition to the C-Suite successfully and sustainably. Yes, I know this book is well and truly overdue.
In the meantime, if you're a STEM leader who is "stuck" at the same level and wishes to move up the organisational ladder, please don't hesitate to contact us. As I like to say: the future is STEM!
Until the next newsletter edition…
Wishing you continued growth,